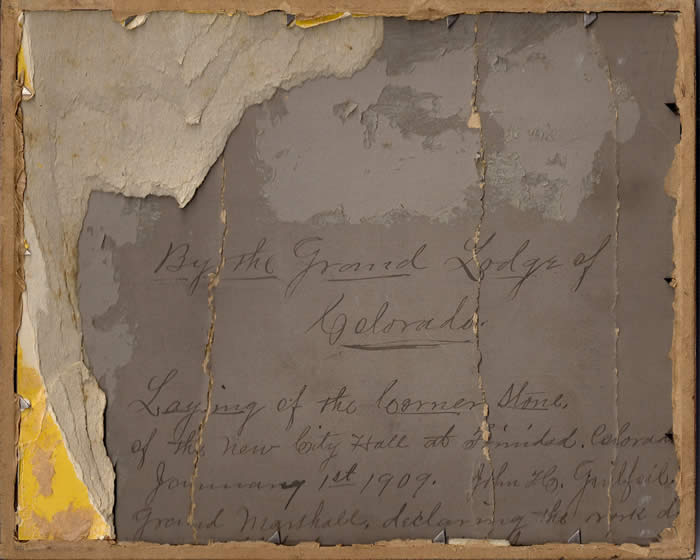 John Henry Guilfoil was born in Troy, New York on April 12, 1844. His parents were Michael and Catherine Guilfoil, who had come from Ireland. He came to Elgin, Illinois in 1859 and enlisted with his father in the 55th Illinois as a musician on August 20, 1861. While waiting to join for duty in the 55th, he reportedly was with the 23rd Illinois ("Mulligan's Irish Guard") who engaged in a battle at Lexington, Missouri with Confederate forces led by Sterling Price. On September 20, 1861 Price's men defeated the 23rd Illinois, the 2,800 men in the unit were taken prisoner, and the prisoners were paroled to return home.
On October 29, 1861 John reported for duty with the 55th Illinois. He deserted and was brought back by a constable on November 19, 1861. He was cited for bravery at the battle of Shiloh, Tennessee April 6, 1862. He was sick with typhoid fever in hospital at Iuka, Mississippi October 22, 1863 and again at Cairo, Illinois November 20, 1863. He left the army at the end of his term of service on October 30, 1864 in Chattanooga, Tennessee.
He married Lottie Force in Naperville, Illinois on July 7, 1866. Their children were William, who died July 16, 1916; Albert, born December 1, 1867 and died November 2, 1953; Louisa, born August 1869 and died September 11, 1870; and Estelle (Mrs. Alvin Reed), born 1871. John and Lottie were in Litchfield, Illinois in 1870 and Mattoon, Illinois in 1880. John was a railroad engineer on the Illinois Central and later, on the Colorado and Southern. On August 2, 1886 Mrs. Mary Mitten conveyed certain real estate in Coles County, Illinois to John in trust for the widows and orphans of deceased members of the Brotherhood of Locomotive Engineers. John served as president of the Brotherhood. A court case ultimately decided in 1896 in the Illinois Supreme Court determined that John had taken this property in trust as his own and he was ordered to pay restitution. Lottie and John were in Trinidad, Colorado in 1900. John was sheriff of Las Animas County, Colorado, Vice Commander of the Grand Army of the Republic organization of Colorado and Wyoming, and a grand commander of the Knights Templar.
Lottie died on February 6, 1904 and John died December 15, 1915 in Trinidad, Colorado. Both John and Lottie were buried in Bluff City cemetery, Elgin, Illinois. The photograph shows John Guilfoil declaring the work of laying the cornerstone of the new city hall at Trinidad, Colorado complete on January 1, 1909.